Charlotte Fabro is a unique musical soul from Toronto. The rich and soulful nature of her music is brought to life by her musical partners Chino Chan and Rob Christian. Together, their sound is undeniably rooted in R&B, neo-soul and jazz. Fabro effortlessly marries poetry to harmony in the truest, most committed way possible. She has performed alongside acts like Oshun, Jayd Ink and Charmie.

On June 9, 2019, she dropped the visuals for her recent single "Tomorrow's".
Nathan: Congratulations on the release of the video for "Tomorrow's". It's been a long time coming for release of your single. How does it feel to have it out in the world?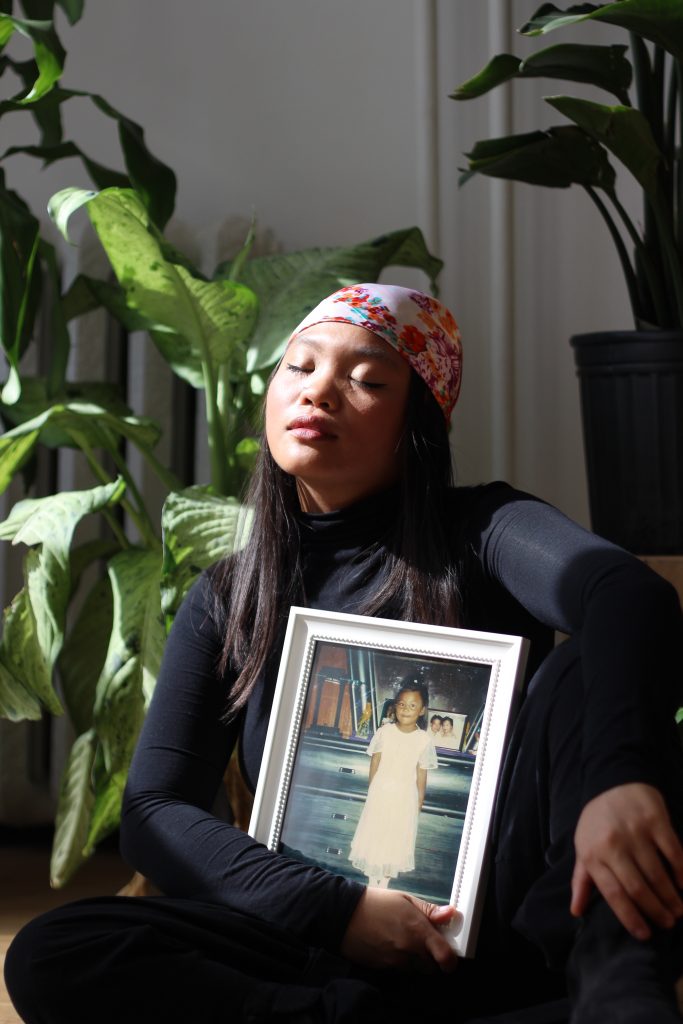 Charlotte: It feels really good. It's been a long time coming. This song represents a lot of growth for me! It has gone through a handful of different permutations over the last couple of years, and for it to finally be out fills me with so much joy.

N: The lines "Babe it's inevitable, you will fall, but come sunrise, you will have gold within your soul" carry a strong sentiment of resilience. Can you give us insight into the meaning behind the song?

C: "Tomorrow's" was written after a painful departure from love. It is written through the perspective of a mother, guiding and comforting her child. It is a song of reassurance. It acknowledges that we will make mistakes and experience heartbreak but reminds us that there will always be more tomorrows. When I was writing this tune, I was really trying hard to convince myself that the pain of heartbreak wouldn't last forever. Now looking on the other side, I can say that this song is meant to help heal and give hope.
N: The video was shot partly in Kensington Market, which is an artistic cultural hub in the city. What brought you to that neighborhood? What are some of your memorable experiences there?

C: Kensington market is so significant to me. When visualizing the concept of the video, I knew that I wanted to really incorporate visuals of the city. Kensington is very real, raw and lively, and so I thought that that would be the perfect setting. I did my very first performances in Kensington Market. I was actually on my way to play a show in Kensington when I met Chino for the very first time. It's always been a place that's brought me joy. We also filmed in Toronto's well known Dunbat skatepark. Again, a very real and lively area.

N: Listening to the single, I hear resemblances to Eryn Allen Kane, Raveena, and Nai Palm. Which artists have influenced the creation of your sound?

C: I've always gravitated towards acoustic guitar and soulful vocals. In the last couple of years, I was listening to a lot of Nai Palm, Lianne La Havas, and Jordan Rakei. The emotion and just overall passion that is expressed through their performance and songwriting has always captivated me. In earlier years I grew up listening to a lot of Justin Nozuka. His lyricism and ability to create an atmosphere is something I aspire to do in my own writing.

N: Shout out to your skilled producer and boyfriend, Chino Chan. Do you find that romantic and artistic chemistry go hand in hand, or do you butt heads sometimes?

C: It's a balance of both. We are two different people, with different opinions. When you're working with someone in general, you're bound to disagree at some point. I do think he is my musical soulmate. We get each other and support each other. And that kind of love and connection can be heard in the music we create. It's funny because a friend of ours was listening to a rough draft of "tomorrow's" and he mentioned that he could hear that the person playing the bass loves the vocalist.
N: On Instagram, you've opened up to your followers about your past health issues. Most public figures tend to only show the "polished" version of themselves, forgoing what is "real". Why was it important for you to be transparent to your audience?

C: Honestly, I'm not exactly comfortable with just showing off the "perfect" side of me. I'm real and raw with everything. I'm not trying to be someone I'm not. I found that being transparent with who I am attracts genuine connections. There's this quote by Maya Angelou that I think about often, "I've learned that people will forget what you said, people will forget what you did, but people will never forget how you made them feel." Its important for me to make others feel like its okay to be trying, its okay to be failing, its okay to weak, its okay to need to heal. Everyone is trying to figure their sh** out, and I find that being public about it, especially as an artist, gives others a chance to be okay with where they are in life. Perfection is overrated.

N: Last year, you held the wonderful R&B/Neo-Soul series, Sista' Soul Revue, with the likes of Chelsey Bennett and Shannon Chapman. For those unfamiliar, what was your purpose behind that series? Can we expect a revival?

C: So many things led up to creating Sista' Soul Revue. For one, every time I'd play a show, I'd get put on a bill with a mismatch of different genres. Despite the fact that that is super cool and all, I felt like creating a showcase where you can 100% expect to hear the best of one genre. Being a woman in music, it has its ups and downs. I have been disrespected too many times to count, and I have had my musicianship questioned a bunch of times too. Last year I decided to curate my own showcase that would showcase soulful womxn led talent in the city. The high level of musicianship that womxn in this city have should never be undermined. This series showcases that! This is the first time I'm going announcing it and YES, the next Sista Soul Revue will be happening at The Burdock on Friday July 19th.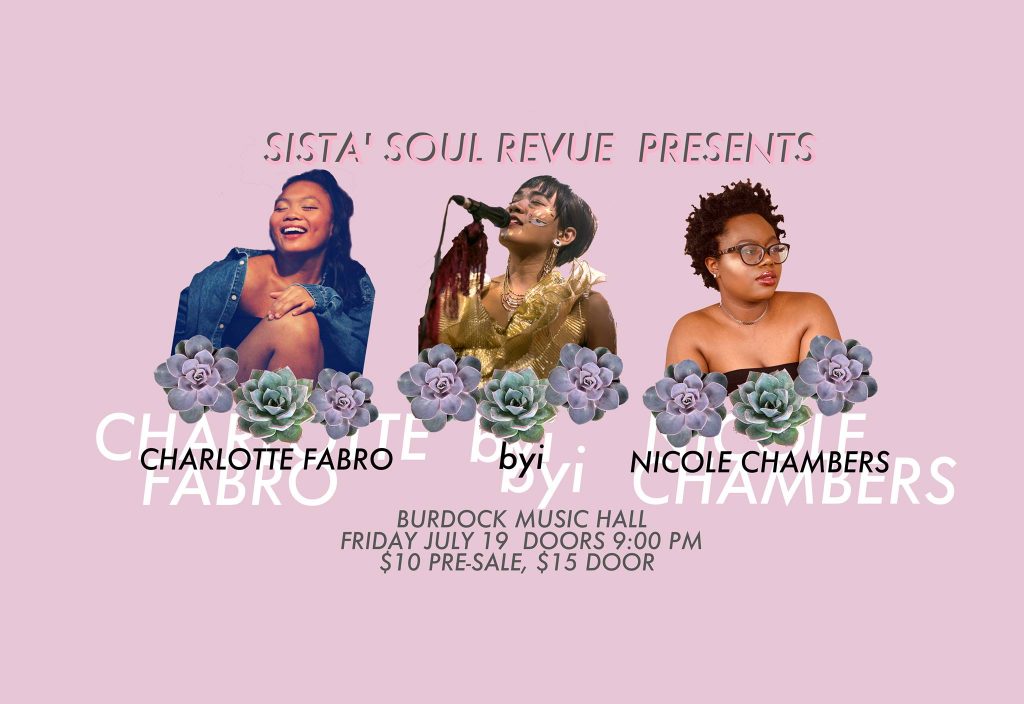 N: Every artist has their dream collaboration. Let's put it out into the world: who would it be for you?

C: Justin Nozuka, hands down.

N: What are your upcoming plans? Playing any shows or releasing more music?

C: I'm going to be playing way more shows this summer. That'll be determined all throughout the next couple of weeks. I have a bunch of demos that are still being workshopped, however I do plan on doing another release by the end of summer. In the meantime I just plan on practicing my guitar, and trying to write more music.
Next Show: Burdock Brewery on July 19th, RSVP to the event and grab tickets through the Facebook event link HERE.

Credits (Feel free to tag anyone who contributed to the project)

Chino Chan (Production), Rob Christian (Horns…yes all of them), Masi, Beat The Image (Videography), Maddy Mignardi (Photography), Christine Alfred, Joshua Santos, Jerrold Magbitang, Amy Phung and Dono.
You can find more of Charlotte's music HERE. Stay updated through her Facebook and Instagram too!
You might also like
---
More from Beats
---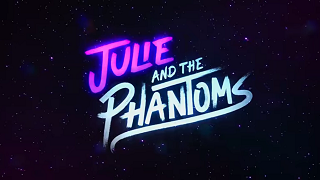 1.5K
When Netflix launched the first season of a new Original musical series Julie and the Phantoms, based on the Brazilian …
Glass Animals, the UK-based band has done it again. Every album the band releases is filled with velvety melodies, tribal …
Meet Music Travel Love, the travelling brother's band featuring Bob and Clint Moffatt. Growing up in the 90's, you would …
Editor Picks
---