In recent years, two dimensional animation has surged in popularity to near domination of the half hour sitcom genre. It is most likely attributed to us 90's babies becoming adults (in age at least) and yearning to be comforted by the memory of our Saturday morning cartoons. I, for one, greatly miss when my biggest concern was if my brother ate all the good cereal and that I would be stuck with Dad's raisin cardboard flakes. But whatever the secret formula may be for recapturing that sense of escapism in this modern era, it appears that they have cracked it with The Midnight Gospel from Netflix. This latest cartoon comedy for grownups is brought to us by the creator of Adventure Time, Pendleton Ward and comedian known for the podcast The Trussell Family Hour, Duncan Trussell. This series stands out from the rest with it's whimsical ridiculousness as well as its thought provoking content. In a time where everything seems so serious, it is refreshing to take a break from reality and take 30 minutes to laugh. So let us review it's juicy bits, shall we?
Concept and Story Line
In this Netflix Original Series, we meet Clancy, an intergalactic "Starcaster" that travels from one psychedelic realm to the next. He interviews those he meets along the way to discuss life, death, and what it all means. Those interviews you'll hear are mostly taken directly from Trussel's very own podcast and amplified by Wards visual narrative to make something quite unique.
Animation
As is the case with most cult classics, animation has taken a cyclical turn away from what looks the most real and closer to what makes us feel something. The Midnight Gospel is no exception. The scenery mimics a hallucinogenic dream where every episode brings us to another kaleidoscopic world and maybe on an acid flashback, even if you have never imbibed. The folks we meet are as odd as their surroundings yet portray lifelike gestures that fully meld the character to the voice.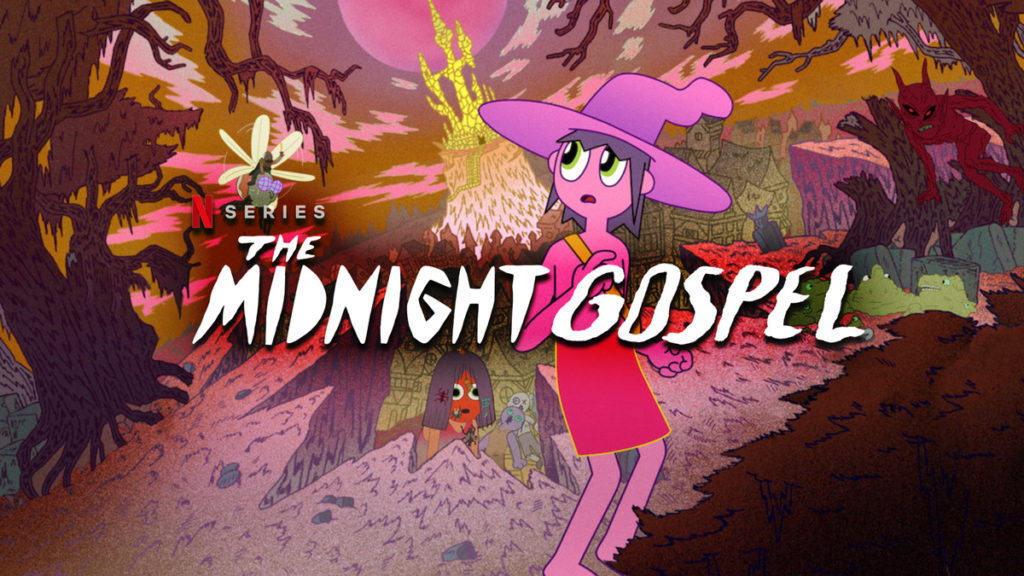 Writing/Directing
Keeping in mind that most of the "script" is not scripted at all, the combination of previous recordings and new content are pieced together rather seamlessly. Partnered with the extremely stimulating animation, the deeply philosophical conversation between characters can be difficult to follow at times. That being said, the fast paced dialogue and thoughtful vocabulary remains relatable throughout.
Acting
The voice acting is another genuine aspect of this otherwise abstract story. The tone speaks to anyone who has ever gathered in the basement of a friend discussing the human psyche.
Comedic Value
Butt jokes galore! If you still giggle at cartoon genitalia and love saying "What the f- did I just see?!", then this one is for us, my friends. It may fall short for those that need a more intellectual touch to tickle their funny bone. Overall, The Midnight Gospel is a major trip where the innuendos are blatantly rampant, so take the TV-MA rating seriously.
Jody's Review of The Midnight Gospel Season 1
Concept and Storyline

Animation

Writing/Direction

Acting

Comedic Value
You might also like
---
More from Animated
---
Animated Shorts have become a sort of gold standard in innovative storytelling in the past few years with short films …
Recently, Disney revealed Specter to be Disney and Pixar's first openly LGBTQ character in the Disney and Pixar universe! In …
With the Oscar nominations delivering another blow to our diverse communities, let's shine a light on the well-deserved pick, Hair …
Editor Picks
---