On December 16, Lena Waithe took to Twitter to make an announcement:
"So excited to announce that I'm part of Disney and Pixar's Onward as Specter. Cannot wait for you all to see it in theaters on March 6, 2020!"
The movie takes place in a world where fantasy creatures are living in modern times, but they've forgotten their magical roots. Two elven brothers go on a road trip to fix the magical mishap they caused when trying to bring back their missing dad. During the movie, they run into Lena Waithe's character, Specter.
Recently, Disney revealed Specter to be Disney and Pixar's first openly LGBTQ character in the Disney and Pixar universe! In the movie Onward, Specter is a purple cyclops police officer. Though she isn't a main character in the film, she's the first character with a speaking part to confirm her role. In the movie, there's a scene where Specter and other characters are talking about home life, and Specter gives a peek into the lives of a blended family.
In a brief scene, Specter tells a driver she pulls over, "My girlfriend's daughter got me pulling my hair out!"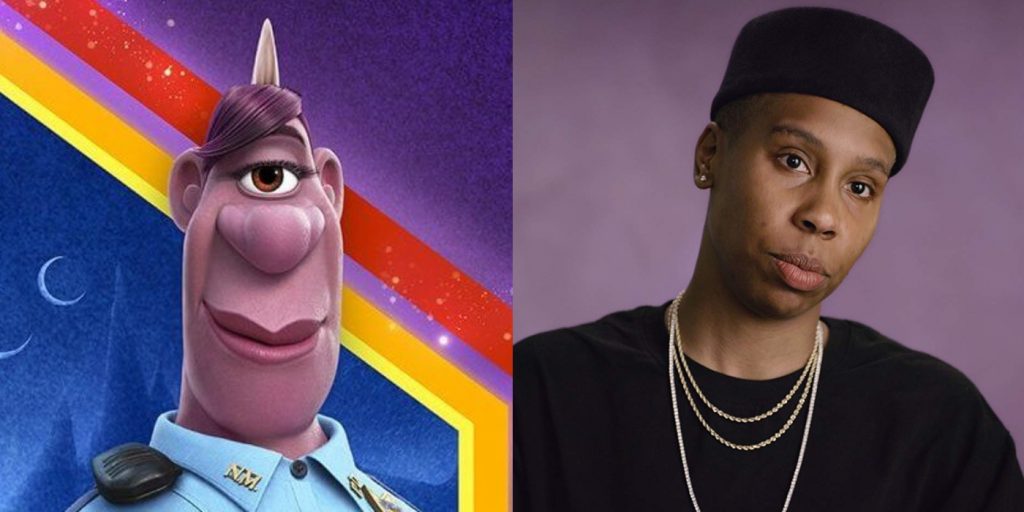 Onward's producer, Kori Rae, spoke to Yahoo about the choice to make Specter a lesbian character. To the crew, introducing a lesbian character felt organic to the story.
"It just kind of happened," he explained. "The scene, when we wrote it, was fitting, and we opened up the world a little bit, and that's what we wanted."
The director of the film, Dan Scanlon, agreed with Rae, stating that the film takes place in modern-day suburbia, so it needs modern-day representation. Both the producer and the director give Waithe credit for making Specter a big presence in the film.
Before the appearance of Specter, there were no confirmed LGBTQ characters in the Disney and Pixar universe. In recent films, there were background characters that looked like they could've been LGBTQ, but producers refused to confirm or deny.
In 2016's Finding Dory, there were two female characters seen pushing one stroller. Fans speculated this was a lesbian couple, but instead of saying yes or no, the director said, "They can be whatever you want them to be." Toy Story 4 showed two female background characters dropping off a kid to kindergarten. Like with Finding Dory, the producers and director refused to confirm nor deny if this was an LGBTQ family.
Specter's creation comes following GLAAD's rating of Disney for LGBTQ representation. GLAAD is an organization run by the LGBTQ community in the media monitoring representation in television and film. Disney received a failing grade with LGBTQ representation, stating it was one of the "weakest representation in the history of film." Of the ten films released in 2018, none of them had any LGBTQ characters.
Disney is slowly catching up and adding more LGBTQ characters into the Disney universe. In the past, characters were either speculated or had mere seconds of a single gay scene. One of the more memorable seconds-long gay scenes was Josh Gad's character in Beauty and the Beast. In Star Wars: the Rise of Skywalker, Disney had two female characters share a kiss, a first in the films. James Gunn, the director of the Guardians of the Galaxy movies, got in trouble for saying, "There are probably gay characters in the Marvel Universe; we just haven't met them yet."
It looks like Disney took the feedback from GLAAD and started applying it to future movies. Specter is the beginning of Disney being more open to including more LGBTQ characters into their stories. The Marvel films confirmed that Valkyrie would be the first Marvel Universe character with an LGBTQ storyline. She appears in the fourth Thor film.
Though it's a brief appearance, it's a step in showing more representation in a studio that's shown a fragile history in representation among the LGBTQ community. With promises of more LGBTQ characters showing up in films, it'll be exciting to see the kind of progress Disney makes in making sure everyone is seen in their movies. No matter where a person lives, they will be able to look at the big screen and relate to one character in the film.
Onwards is in theatres March 6.
Watch Now: Official Trailer for Onward
You might also like
---
More from Animated
---
Animated Shorts have become a sort of gold standard in innovative storytelling in the past few years with short films …
In recent years, two dimensional animation has surged in popularity to near domination of the half hour sitcom genre. It …
With the Oscar nominations delivering another blow to our diverse communities, let's shine a light on the well-deserved pick, Hair …
Editor Picks
---