Childish Gambino's new video for his song 'This is America' unapologetically presents his view on the current American political climate, while providing listeners with a new musical style, incorporating trap influence and African style drumming.
Gambino's Imagery Explained
The song's video begins with a man playing a soulful tune on acoustic guitar. The lyrics "We just want to party, party just for you. We just want the money, money just for you" set an upbeat vibe to the track. Gambino dances carefree to the beat, until the 180° transition: the guitarist's hands are tied, there's a bag over his head. Gambino pulls out a pistol, stands behind the singer, shoots point blank, then looks to the camera and states, "This is America". A heavy bassline kicks in, the gun is handed off, and the body dragged away. This instills the first point of the video: America will play innocent to their crimes, and hide the evidence.
Riots break out in the background while he and a group of children dance, ignorant to the events. A powerful metaphor to demonstrate how people will find escapism through current trends and ignore the violent matters that occur daily.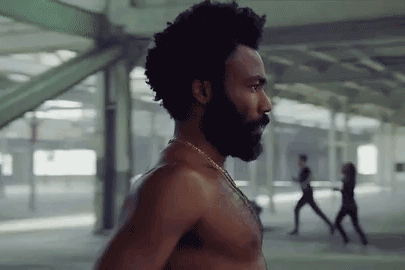 The video continues to a disturbing image: a choir singing along to the chorus is gunned down by Gambino. He states "This is America" as he turns his back on the massacre and further riots break out. A clear reference to the Charleston church shooting, demonstrating how the tragedy had a certain group of people up in arms while the rest of America downplayed the importance of the incident.
Gambino Wants America to Wake up
We also see children sitting in the rafters, taking in a bird's eye view of the chaos. Phones in hand, seemingly recording it all. It appears that Gambino is  remarking on how society has become removed and desensitized to harsh realities by technology. The climax of the riots approaches with flaming cars and people running amok. In this moment Gambino sings "I'm on Gucci, I'm so pretty".  Gambino calls out yet another way that society distracts itself, specifically with vanity and status.
Throughout the video, Gambino deviates from his usual vocal style, as if in mockery of pop culture. He does so by referencing Young Thug's "With That". He asserts that the current pop culture only perpetuates the worst stereotypes, and glorifies distraction. Childish Gambino is known for his lyrical prowess, however he keeps it simple in this track, utilizing the exact phrases of other artists to call out their mediocrity.
It is interesting to note the staging of the video. It takes place in a barren warehouse, which could symbolize America being trapped in their own bubble. Unless it affects Americans directly, they have no interest in what happens beyond their own borders.
The video concludes with Gambino running through the darkened warehouse, being chased by a mob of people. Perhaps this signifies that he will be turned into the villain by those unhappy with his critique. Or possibly it represents citizens waking up and taking action into their own hands. Either way, I am glad to see the direction he is taking with his music. I'm looking forward to seeing what Childish Gambino will release next.
You might also like
---
More from Beats
---
INSIDE hit Netflix on May 30th and if you're late to the bandwagon, it's time to hop on. Bo Burnham …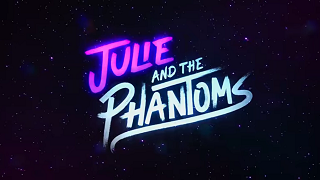 1.5K
When Netflix launched the first season of a new Original musical series Julie and the Phantoms, based on the Brazilian …
Glass Animals, the UK-based band has done it again. Every album the band releases is filled with velvety melodies, tribal …
Editor Picks
---