The adage, "Never meet your heroes," is a warning that suggests the encounter will lead to disappointment. For Amazon Prime's original series The Boys, such an encounter could be lethal.
Synopsis
The Boys live in a world where superheroes are not only real but have superstar status built on savvy social media campaigns, product endorsements, and a monetized facade. The titular Boys are a vigilante group out for revenge and to expose the truth about the super-corrupt heroes-but mostly revenge. Their target is the ultra-elite superhero team known as 'The Seven'-Homelander, Queen Maeve, Black Noir, A-Train, The Deep, Translucent, and Starlight. Most of Season 1 bounces seamlessly between the two warring groups and their integration of the newest team members. Hughie, for the Boys, wants revenge for his girlfriend who was bloodily obliterated by A-Train, and Starlight, the newest Seven, finds that sexism dominates even the highest levels.
About
The Boys is based on the 2006 graphic novels created by Garth Ennis and Darick Robertson and illustrated by Robertson. Both are writers and co-producers for the show, but development and tone lie with show creator, Eric Kripke, and co-producers Seth Rogan and Evan Goldberg. Kripke has made a show that is deliciously dark, super violent, and disturbingly sexual. This show takes our obsession with super celebrities and shoves it right back in our faces.
Watch Season 2 Official Trailer
So, before Season 2 lands on Amazon Prime, let's look back at Season 1. A spoiler warning is in effect.
Writing
It takes a team to write a show as cohesive and original as The Boys. Along with Kripke, Ennis, and Robertson, the other writers include Rebecca Sonnenshine (The Vampire Diaries, American Zombie), Anne Cofell Saunders (Star Trek: Discovery, Timeless, Smallville), Craig Rosenberg (Preacher), George Mastras (Breaking Bad), and Ellie Monahan (Mr. Robot). Instead of creating crime fighters who hide in the shadows or behind a secret identity, the writers take Tony Stark's revelation that, "I am Iron Man," to the corporate mega-conglomerate extreme. No more hiding in the secret cave; the supers are in the public eye and it's all about big hype and big business.
Casting
I'll admit to not having read the graphic novels, so the casting choices for the Amazon Prime show work for me. The producers went for quality right down the casting line, rather than hanging their hats on one or two superstars. Sure, they started with heavy hitters like Karl Urban as Billy Butcher (Lord of The Rings, Dredd, Star Trek) and Elizabeth Shue as Madelyn Stillwell (Leaving Las Vegas, Adventures in Babysitting). But don't count out relative newcomers Erin Moriarty as Starlight and Jack Quaid as Hughie. Both carry a heavy load in their Romeo & Juliet side-plot and they pull it off. You may remember Moriarty from her terrific performance as Hope on Jessica Jones. Jack Quaid will be most recognizable for his early career casting as Marvel in The Hunger Games.
One of the most delightfully meta casting choices is Simon Pegg as Hughie's father. Artist Darick Robertson admits to using Pegg as his model for Hughie in The Boys graphic novels. Pegg was 'super chuffed'-meaning pleased-that Robertson used his likeness, but knew he was too old to play the part when the project was finally green-lit. Then Kripke asked Pegg to play Hughie's father and, well, cue inspiration music.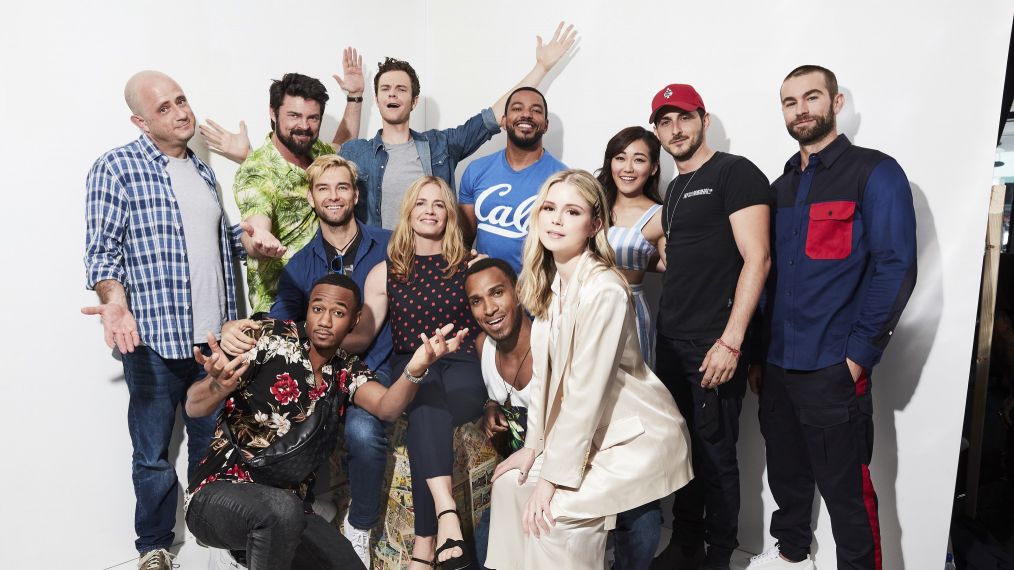 All right, I know you want to know why I've yet to mention Antony Starr. Obviously I saved the best for last. A relative unknown in America, the New Zealander is the break-out 'star' of the show. As Homelander, Starr portrays an inherently evil character, the likes of which haven't been seen since Delores Umbridge. His All-American good looks, chiseled chin, and perfect blonde locks stop just short of his menacing ice-blue dead eyes. Starr knows how to reign in the crazy and deliver a quiet, twisted performance that strikes genuine fear. When two teenagers lean into Homelander for a selfie, you want to yell at them to get the hell away!
Starr's best scenes are in partnership with Elizabeth Shue as the Vought Corporation brains behind the brawn. The two have great chemistry. He might be the authoritative 'daddy' for The Seven, but she feeds his mommy-fixation with a cheerful ruthlessness. Together, their scenes are disturbing and tense, with simmering violence just below the sleek and composed surface.
Other standouts include Chace Crawford as The Deep who goes from sleazy douchebag in Episode 1 to sadly comedic crusader in Episodes 7 & 8. His emotional breakdown and transformation from the confident superhero to pathetic loser is both satisfying and heart-wrenching. In contrast, Karl Urban's growling portrayal of Butcher is forceful and steady. Here's a guy who has nothing to lose, so he risks everything, and everybody, to get his one shot at vengeance.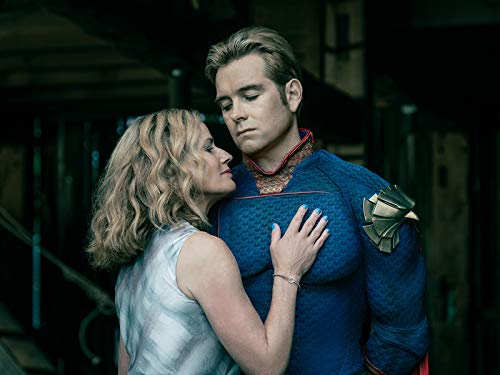 Directing
A quick look at IMDB shows that The Boys uses a new director for each episode. Don't let that fool you. These award-winning directors are known for some of the hottest shows: Game of Thrones, Walking Dead, Black Mirror, The Sopranos, and Westworld. However, the tight cohesion and overall tone comes from showrunner/producer/director/writer Eric Kripke. This is his baby.
Kripke made changes that enhance the source material, including gender-swapping major roles. However, one of the biggest changes is the handling of Compound V. While the characters know about the super-making drug in the novels, keeping it a secret is one of the show's biggest arcs. Kripke also changed the backstory for Butcher. In the novels, his wife dies as the result of her rape by Homelander and Butcher subsequently kills the laser-eyed newborn. Season 1 of The Boys ends with Becca and her half-super child very much alive. I'm excited to see how this change plays out in Season 2.
Here's one last note. Some things Eric Kripke wanted in Season 1 didn't happen because of budget constraints. Now that he has a hit show, expect Season 2 of The Boys to be bigger, faster, bloodier, and super spectacular.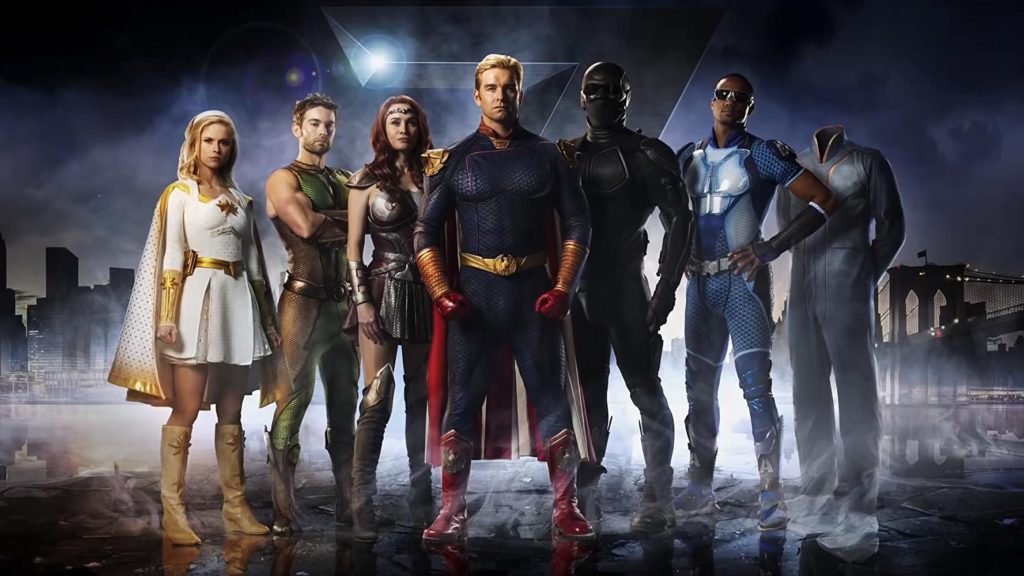 Heidi's Review of The Boys - Season 1
Writing

Casting

Acting

Directing
You might also like
---
More from Drama
---
Looking for something new to watch on Netflix? Check out these 5 new series now available on the streaming service. …
During an annual cabin retreat, a young man dying of cancer must confront past mistakes after learning he may not …
Wayward Kin is the story of a young man facing an impossible court case, the volatile Caleb Dodgens must overcome …
Editor Picks
---